Fear: Trump in the White House
He is at it again! The legend responsible for bringing down the Nixon White House has published what is perhaps the most shocking inside look of the White House in the last three decades. Bob Woodward brings this 448-page masterpiece backed not only by his indisputable credibility, but also by on-tape interviews with top White House aides and advisers.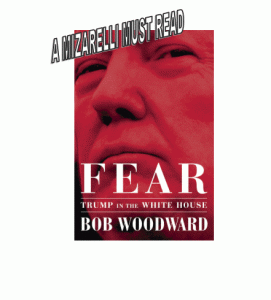 Fear: Trump in the White House brings a scary look into what was at one point considered the greatest point of world stability, now being called ´´crazy town´´ the White House has been left helpless in challenging Woodward´s credibility. From the Oval Office to the Situation Room here are my top five most shocking moments pulled directly from the Tell-All:
1st Trump´s former personal lawyer John Dowd, called him a ´´fucking liar´´ and is confident the President will end up in an ´´orange jump suit´´ should he choose to testify to Robert Mueller´s Special Counsel. The President is also said to have committed perjury during a mock interview.
2nd Former Chief Economic Adviser Gary Cohn removed a letter from the President´s desk that would have ended a top-secret program ran in South Korea that is detrimental to the safety and stability of the area. Trump never noticed. Cohn has also stated the President requested the government print more money in order to decrease the national debt. After it had to be explained to Trump that this would cause a sharp decrease in the price of the US dollar worldwide endangering the economy.
3rd Chief of Staff John Kelly called Trump an ´´idiot´´ and ´´unhinged´´ while Defense Secretary Mattis describes the understanding capabilities of the President as that of a ´´fifth or sixth grader´´. Top advisers are rumored to at times having to distract the President with TV or food.
4th One of Trump´s closest and longest advisers Kelly Conway was quoted directly as saying: "He's an idiot. It's pointless to try to convince him of anything. He's gone off the rails. We're in crazy town," Kelly is quoted at a staff meeting in his office: ´´I don't even know why any of us are here. This is the worst job I've ever had´´
5th The President watches about six hours of television per day. He also had his aides create charts depicting which of his tweets were the most popular. He frequently forgets about time zone differences and calls world leaders at all hours of the night. He was also reported to have called one of his top economic advisers because he did not know whether a stronger or weaker dollar was better for the economy.
Not even separating children and their families or pulling out of the Paris Accord can shock his core base. While the world stands in horror, Trump is creating a new world order that resembles scary times and behavior like the scariest dictators in history. The President´s failure to condemn the KKK protest on the East Coast has caused many to believe his morals have been jeopardized. Two weeks ago, at a rally Trump was quoted saying ´´if I get impeached this is your fault´´ directly to his core base. This at a time when his approval rating is at an all time low and his former top campaign manager Paul Manafort was sentenced to jail and also signed a plea deal with the special prosecutor investigating the President.
This book is a Mizarelli must read and gets our Seal of Approval. Paperback copies will be available in Brazil in the first week of November.